Holistic Fitness Workouts & Memberships
Semi-Private Personal Training Sessions (1 to 5 members/1 coach)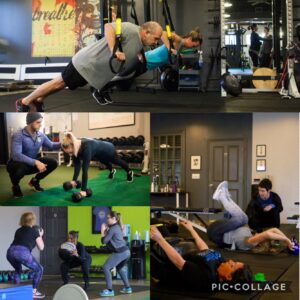 The best elements of private one-on-one coaching and group training
Functional Strength Training to build lean muscle
Metabolic Conditioning to enhance endurance and burn fat
Detailed, personalized instruction for every member with every exercise
Education – learn how to transform your body safely and effectively… and have fun along the way!
---
Metabolic Conditioning (MetCon) Sessions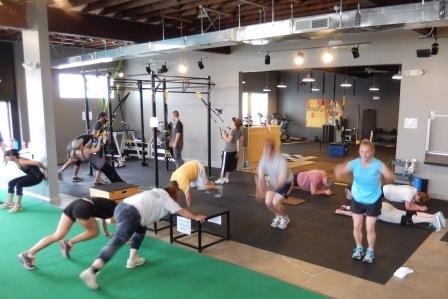 MetCon Essentials (up to 16 members/1 coach)
Introduction to our Fun, Fast-Paced and Dynamic Metabolic Conditioning Sessions
Alternate between strength training exercises and higher-intensity cardio stations
Rev-up your endurance and burn body fat
Utilize fun tools such as TRX Straps, Medicine Balls, Bikes, Ropes, Sleds and more
Smaller coach/member ratio ensures you can train hard AND safe
MetCon Evolution (up to 10 members/1-2 coaches)
Our "Graduate Level" Metabolic Conditioning Sessions
Advanced strength training exercises and shorter rest intervals
Note: New members must be approved before attending their first Evolution workout
---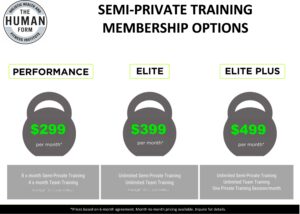 ---
Private Training Memberships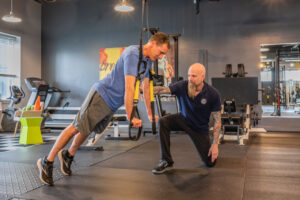 Although our Semi-Private Personal Training format is an ideal choice for the majority of our members, our coaches do provide an option for people who need or prefer to work privately in a one-on-one setting. This service can be short-term with the goal of joining the Semi-Private groups, or ongoing for private instruction. All private training clients are also welcome to attend our larger group MetCon Conditioning Sessions on Saturday mornings.
If you are interested in Private Personal Training, please contact us and we can connect you with the best coach for your needs, goals and preferences.
---
Non-Membership Option
Program Design
An excellent option for the independent exerciser who prefers to work out at their own club or home gym.
Personalized Corrective Routine and Strength Workouts
Private one-on-one instructional sessions
Diagrams and descriptions and/or videos of all exercises
New workout programs designed every 8-10 weeks
Initial Investment: $599
HF Assessment
Review of Findings
Design of Corrective & Workout Programs
3 Private Training Sessions
Workout Folder
New Programs: $299
Design of New Exercise Programs
2 Private Training Sessions
Workout Folder
---